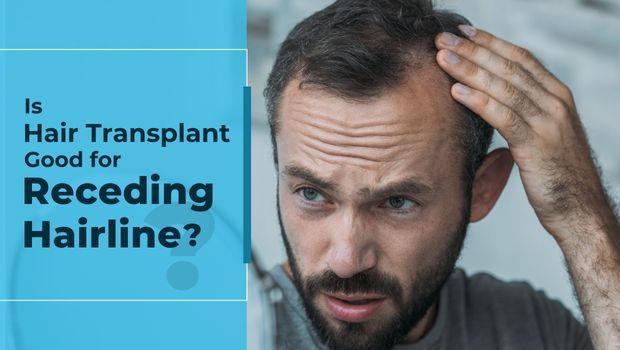 Aug 02, 2022
BlueMagic Group
Is Hair Transplant Good for Receding Hairline?
Seeing your hair is probably the very first thing you do when you look at yourself in the mirror. And having dense and thick hair is something all men and women dream about. 
There are however a number of factors that can lead to losing hair at an early age in both men and women. This is called a receding hairline.
However, advanced techniques of a hair transplant for receding hairline exist, and for that thanks to science and research.
Hair transplant for receding hairline is a non-invasive cosmetic procedure for patients who are balding, have receding hairline, or have lost density in their temples.
In this blog, we'll walk you through the most common reasons for receding hairlines, how effective hair transplant surgeries are, how Follicular Unit Extraction (FUE) works, and how much it costs to go for hair transplant for receding hairline.
What Are The Causes Of Receding Hairline?
Many people go for a hair transplant in Turkey because of a receding hairline. The most common cause of a receding hairline is getting old. There are, however, other deciding factors, such as:
Hair loss can be caused by hormonal imbalances in both men and women. When a man's hair follicles are sensitive to DHT (Dihydrotestosterone), a condition known as male pattern baldness develops.
Reactions to certain medicines, chemicals or treatments: 
Hair loss may sometimes be a side effect of lotions, drugs, or even hair loss treatments.
If you have family members with receding hairlines or even baldness, you have a higher chance of developing baldness as well. The majority of people who lose their hair at an early age may trace it back to their heredity.
Excessive stress can harm your health in a variety of ways. Hair loss or a receding hairline can occur as a result of prolonged stress induced by diseases or hard labor.
Hair loss can be caused by bad habits such as smoking and consuming alcohol.
Is Hair Transplant A Solution To Receding Hairline?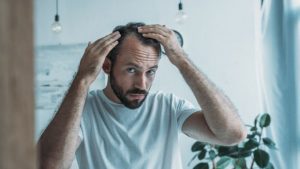 The answer is Yes! Hair loss, hair thinning in the temples, and a receding hairline can all be addressed with a receding hairline treatment. The hair transplant for receding hairline provides a better long-term solution to hair loss issues, and the outcomes consistently beat other hair loss treatments. PRP treatment for hair loss is also one option people with early hairline loss can consider.
You must be certain that you are an ideal candidate for hair transplant hairline surgery before undergoing the procedure. Hair transplantation is not for everyone, and it is critical to arrange the procedure appropriately in order to get the desired outcomes.
It's essential to examine the temple area to ensure that the hair loss isn't just temporary. The reasons for hair loss must then be determined, as well as if the hair loss is stable or ongoing.
Also, the importance of hairline design in the hair transplant cannot be missed . The hairline will be permanent, and if done incorrectly, it may appear artificial.
A good hairline demands more than just medical and technical expertise. Aesthetic and creative sense, as well as a high accuracy and a steady hand, are all essential.
Which Hair Transplant Technique Works Best For Receding Hairline?
While there are several other hair transplant techniques, Follicular Unit Extraction (FUE) is the most popular. Because it recreates your hairline one hair graft at a time, this procedure offers flawless results.
Follicular Unit Extraction (FUE) hair transplant is a method in which donor hair is taken from thicker areas and transplanted to places where hair loss is partial or complete.
FUE hair transplant in Turkey has many benefits like:
Procedure that is both comfortable and effective

Scars are almost unnoticeable

Hair grafts survival rate is 90%

Faster recovery
The wounds from a Follicular Unit Extraction surgery take 3 to 5 days to heal. However, it is expected that full recovery would take 2 to 3 weeks. Hair starts to fall out at this point, indicating follicle growth. Hair implanted in the scalp grows in 3 to 4 months.
Is The Hair Transplant For Receding Hairline Costly?
A Sapphire FUE hair transplant for a receding hairline costs about the same as other types of hair transplants. This is due to the fact that the hair transplant method, cost, and team required are all the same.
Hair transplant cost in Turkey is substantially lower than that charged in other countries, considering the quality and trusted service you'll receive from the skilled Doctors at BlueMagic Group.
Before deciding on hair transplantation for a receding hairline, contact our expert doctors at BlueMagic Group for more information and personal consultation.